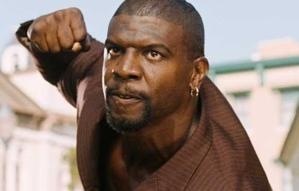 "Eat up sucka!"
- Big Black Jack
Big Black Jack Latimore is the first born son of the notorious Latimore family and older brother of Rasputia Latimore. He is the teritary antagonist of Norbit.
He was portrayed by Terry Crews.
Biography
Edit
Born in 1964, 43 years old, he and his brothers were the meanest men in town who have been bribing and threatening people who even paid for protection and other things.
They meet Rasputia's childhood sweetheart, Norbit and welcomed him into their family.
In fact, they treated him as if he were part of it. Big Black Jack served parts of turkey to his brothers, sister and Norbit (the last of who he gives a turkey rump).
Years later, he and his brothers tried to own Mr. Wong's orphanage where Norbit was raised and grew up there and turn into their own stripclub called Nippolpolis to make money off of it.
They enlisted a fellow crook by the name Deion Hughes who was engaged to Norbit's old girlfriend, Kate Thomas.
Fortunately, they all failed when Norbit stopped the wedding and even brought Deion's ex-wifes and their children as evidence of his deceit.
They later tried to kill Norbit for that, they later being attacked by an angry mob of the very townspeople who were harassed by the Latimores for years.
Even though the Latimores are defeated, they get their goal: to open a strip club; however, they move to Mexico first.
You messed up, boy.
[grabs Norbit, raising his fist] Now you gonna pay... BIG TIME!
Go back to your shop, Abe! Before I kill you too!
We dead! [The mob then chases the brothers out of town for good]
Ad blocker interference detected!
Wikia is a free-to-use site that makes money from advertising. We have a modified experience for viewers using ad blockers

Wikia is not accessible if you've made further modifications. Remove the custom ad blocker rule(s) and the page will load as expected.